Are you in need of emergency plumbers to clear a sewage blockage or blocked drain in Wollongong?
sureplumb are the right team to assist you – we're trusted local experts in fixing a wide range of drain blockages, and have gained decades of experience in this field.
Our understanding of different drainage issues and our skills at resolving them simply cannot be beaten. We service domestic, commercial, and industrial customers at sites throughout Wollongong, Greater Sydney, Sutherland, and Illawarra.
We provide leading services for blocked drains Wollongong customers will really appreciate. If you need a timely and efficient service that quickly resolves the problem, contact our team today. We'll provide a prompt and effective resolution at any time of the day or night.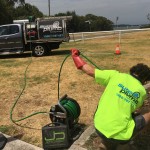 Outstanding 24/7 Blocked Drain Services
We provide customers in Wollongong with a range of top-quality blocked drain and sewer services. Depending on the nature of the issue, there are a number of approaches we can take to diagnose and resolve the blockage.
Whatever the problem you are having, we are committed to getting it resolved as quickly as possible. Our options for servicing your sewer, stormwater, and trade waste drainage include:
CCTV pipe camera inspections
High-pressure water jet cleaning of pipeline services & blocked drains
Pump Servicing 
Identifying  blocked drain faults

Sewer, trade waste, and stormwater tank maintenance and servicing
We Use the Latest Unblocking Technology
By using specialist equipment such as CCTV pipe cameras, we can build up an accurate picture of the health of your drain and to address problems in the most effective way.
We'll also give you honest, professional advice about the state of your drains and suggest ways you can avoid blockages occurring again in the future.
Why Should You Get Your Drains Unblocked?
Blocked drains can cause unpleasant odours, as well as having the potential to harm the quality of your water.
Because blocked drains can be a real safety hazard, it's important to always resolve issues like this promptly and effectively. Our team are highly trained in this area and come fully equipped with the latest technology.
This means that we can easily diagnose blockages, as well as resolve them, at any time of the day or night.
Quality Blocked Drain Workmanship & Customer Service
We use proven methods and the most up to date equipment, allowing us to carry out every job we take on to the highest standards of both workmanship and customer service.
At sureplumb, we understand how much stress a blocked drain can cause, so we are dedicated to getting the job done right and making things as hassle-free for you as possible.
Don't suffer because of a blocked drain – contact your local emergency plumber experts today. We know that problems with blocked drains can strike at any time and that they always need to be repaired fast.
For this reason, we provide a dedicated 24/7 service, 365 days a year to customers in Wollongong. If you're going through a blocked drain emergency we are always here to help, so don't hesitate to contact us today for specialist servicing and support.