At sureplumb, we offer professional CCTV and water jetting services in Wollongong.
Our CCTV and water jetting equipment can be used across the Wollongong region to carry out diagnostic and cleaning services in sewers, stormwater, and other drainage systems.
Our professional plumbers are experienced in working in drainage systems of all kinds, and we use only the best technology to ensure accurate exploration and identification of issues, as well as a fast and effective solution.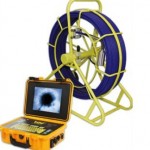 Unblock Drains & Pipes with Ease
Blocked drains and pipes are a huge source of stress to homeowners and business managers each year, being one of the most common plumbing issues faces by Aussies.
When they occur at the wrong time, blocked drains have the potential to cause major disruptions and hazards, as well as incurring costly repairs if they're allowed to build up and worsen.
CCTV and water jetting technology mean it's easy to locate blockages and keep drains clear, hopefully with a view to preventing future blockages before they occur.
Why Choose CCTV Drain Inspection?
Before the rise of CCTV technology, locating and fixing blockages and other issues in drains could be notoriously hard work.
Using CCTV cameras to get to the heart of the matter is the best way to accurately identify and locate a blockage anywhere in a drain.
Using CCTV means that a blockage can be identified quickly, without many failed attempts at fixing the problem first.
At sureplumb, we use high-quality CCTV cameras operated by our trained technicians to ensure we know exactly where any blockages are before we start treating them.
Our Cost-Effective Water Jetting Service
After blockages have been identified with CCTV, our team of experts use a high-pressure water jetting hose to combat and flush out the blockage, ensuring accurate and effective solutions for any drainage issues.
Our water jetting services are a simple, cost-effective way for you to stay on top of and maintain your grounds and drains without costly investigative works.
Water jetting is not just effective, it's also completely safe, and unblocks drains without relying on the use of chemicals or other hazardous substances which can damage your local environment.
Unblock Your Sewer Lines & Drainage Systems
Our CCTV and water jetting services are a simple and effective way to identify and fix blockages in all kinds of water drainage systems including sewers, stormwater, and trade waste drainage systems.
Our service includes a thorough CCTV identification of blockages followed by high-pressure water jetting to clear out blockages and debris in sewer lines, pipelines, boiler tubes, tanks, vessels, drums, and more.
Why Choose Our CCTV & Water Jetting Experts?
At sureplumb, we have years of experience conducting professional CCTV and water jetting services in Wollongong.
Our team of professional plumbers are trained and reliable, always turning up on time and offering friendly and thorough service at every job.
Call 0417 755 448 today for a free quote on our CCTV and water jetting services Wollongong-wide and we'll be happy to talk you through how we can help.