We provide Wollongong and wide Sydney Metro with 24 hour emergency plumbing hot water systems assistance.
Our team offer planned preventative hot water system repairs, maintenance, servicing & replacement of all your water needs, specifically:
Planned hot water systems maintenance;
Installation, service and replacement of natural and electric gas hot water units; and
Installation, service and replacement of boil/chill water units.
When you require expertise in hot water systems repair & installation services, get in touch with sureplumb.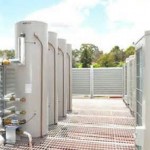 Signs You Need Hot Water System Repair in Wollongong
No one probably gives hot water system repairs in Wollongong much thought until something goes wrong.  You rely on your hot water system for bathing, cooking, and cleaning and it's inconvenient and uncomfortable when it malfunctions.
When that happens, you need to call sureplumb. We undertake many jobs on hot water systems, both repairs and replacements, with top quality work and parts.
Here's how to know it's time to give us a call.
Your Hot Water System is Old
With age, your hot water system is probably just less efficient and more prone to problems. Hot water systems aren't designed to last forever so it's a good idea to keep track of how old yours is.
Most last an average of 11 years so if yours is that old or older, it's probably a good idea to consider a replacement. We can help you choose the right hot water systems for your home.
Leaks & Cracks on Your Hot Water System
Leaks are never a good sign and can lead to extensive damage inside your home if you don't figure out what's causing the problem and get it fixed right away.
Leaks can occur in an older unit, but even newer ones can be damaged and lead to leaks, though proper maintenance can control the issue. A leaking tank needs to be replaced as soon as possible.
Discoloured Water Coming from Your Taps
If you aren't getting clear water when you turn on the taps, chances are you need a new hot water system. The discolouration is likely due to a rusty hot water tank.
You'll probably notice that you're only seeing rusty water when you use the hot top, which is a good way to determine if this is your problem.
Rust inside your hot water tank indicates damage that probably can't be repaired and you'll need a new one as soon as possible.
Lack of Hot Water
If you notice your water turning colder more quickly than usual, your hot water system is likely malfunctioning. Not only can this be unpleasant, but it can be unsafe as well.
This usually happens as the hot water tank ages, where sediment builds up making it difficult to heat adequate supplies of water. A new tank should fix the issue.
Hot Water System is Making Strange Noises or Smells
Strange sounds or odours coming from your hot water system definitely indicate a problem. You might notice a rumbling or banging noise, which usually happens due to the sediment that builds up in your hot water tank as it gets older.
If you detect strange odours from the tank itself or when you run the hot water, your system likely needs to be replaced.