Roof Restorations are Our Specialty
Specialising in industrial metal roof repairs & maintenance, including:
roof leak investigation and rectification;
supply and installation of customised metal roofing to meet our client needs, including roof sheeting type specifications, flashings, box gutters etc.
Get a free quote by giving us a call or fill out our form!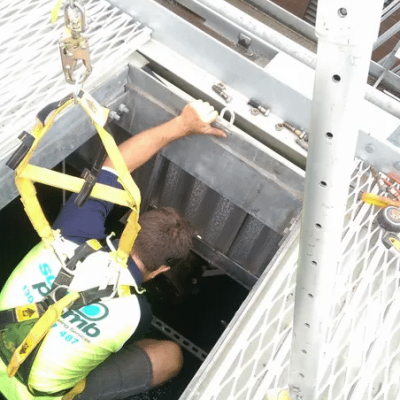 How Do I Know If I Need Roof Repairs?
When you believe that your roof needs to be repaired, it is essential that you get onto the task as soon as possible.
Leaving a roof restoration for too long can result in a number of other problems in the house that can be awfully expensive to resolve.
In order to understand whether you need repairs for your Wollongong property, we have put together some simple advice points for you.
Taking a Look at Your Roof for Yourself
Before you call in our domestic plumbing experts, you can see for yourself whether you need any sort of help by trying and exterior inspection.
You do not look at your roof too closely every day, but when you suspect that there are problems, a close look can help you to spot obvious signs of issues.
You might spot problems with shingles when you conduct this exterior inspection.
Obvious signs include missing shingles, cracked tiles, or corners or edges that are missing or damaged.
You may also have dents in your shingles, or other signs of severe damage.
sureplumb can advise you whether you need speedy roof repairs with damaged shingles.
You might be able to spot this without the need for an intensive inspection.
In fact, it may be the first indicator that something is wrong with your roof.
Although roofs can be slanted to accommodate different pitches, a sagging roof line indicates a bigger issue.
This needs to be addressed by our roof repair as soon as possible.
Roofing Algae Growth & Damp Spots
You may notice that your roof tiles have changed colour in some spots.
This may be a sign that algae are growing on your slates or tiles, and there may also be dark streaks or large spots of damp.
This is a sign that the roof itself is damp, and an urgent repair from the sureplumb team is essential.
Light Shining Through Your Roof
When you go up into your attic space, is the light showing through between the tiles?
This is a sign that your roof needs to be repaired as soon as possible.
Talk to Our Roof Repair Team Today!
If you need urgent help with roof repair in Wollongong, you need to speak to the experts.
At sureplumb, we perform all types of repair and restoration service for a variety of roofing materials.
So simply contact us today using our enquiry form, or call us on 0417 755 448 now.